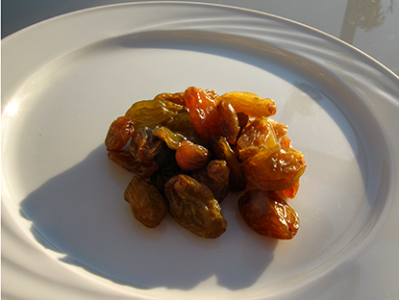 This story starts when my pal Joanne persuded me to reverse engineer a loaf she had bought at some swell place in NYC.1 That done I looked around for other similar recipes, and found one at YeastSpotting. Over time I've modified it a bit, mostly by removing the fresh yeast and relying entirely on my 100% leaven. This version makes two smallish loaves.
Ingredients
195 gm ripe 100% hydration starter. I build with ordinary soft flour
220 gm strong bread flour
220 gm durum flour
245 gm water
10 gm salt
22 gm olive oil
110 gm sultanas (seedless!) or raisins, or currants
70 gm pine nuts
10 gm fennel seeds (optional)
Method
Mix the starter, water, flours, starter and olive oil in a large bowl and mix until combined. Turn out onto the counter and knead for about 5 minutes to a smooth, elastic consistency. Add the sultanas or other dried fruit, the pine nuts and fennel seeds (if using) and knead until the additional ingredients are well incorporated into the dough.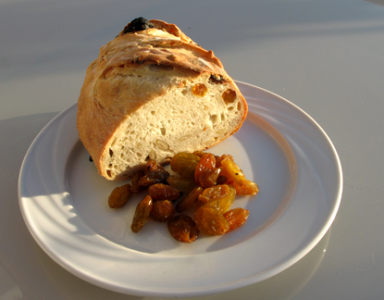 Form into a ball and place into a lightly oiled bowl to bulk ferment for 2 hours.
Turn the dough out onto a lightly floured surface, press out gently and divide into two portions.2 Shape the dough as you prefer and allow to rise for about another 1 1/2 hours.
Preheat the oven to 230°C and prepare to use steam.
Slash the loaves and place them in the oven, with steam. Bake for about 10 minutes. Then remove the steam, turn the temperature down to 220°C and bake for a further 20 minutes. Test the loaves for doneness and if done turn the heat off and leave them in the oven with the door slightly ajar to help them dry out. Place on a wire grill to cool.
Durum loaves often dry quickly, but the sultanas help to keep this one softer longer. I like the contrast of the sweetish bread with salty salami and cheese. It also toasts well.
Notes
That recipe will eventually be transferred over here. And right now she's back there again, so maybe she'll get the recipe they actually use, this time.a

You can also divide into three or four, as Susan at YeastSpotting does, and bake as mini-baguettes, but I prefer a larger loaf.a