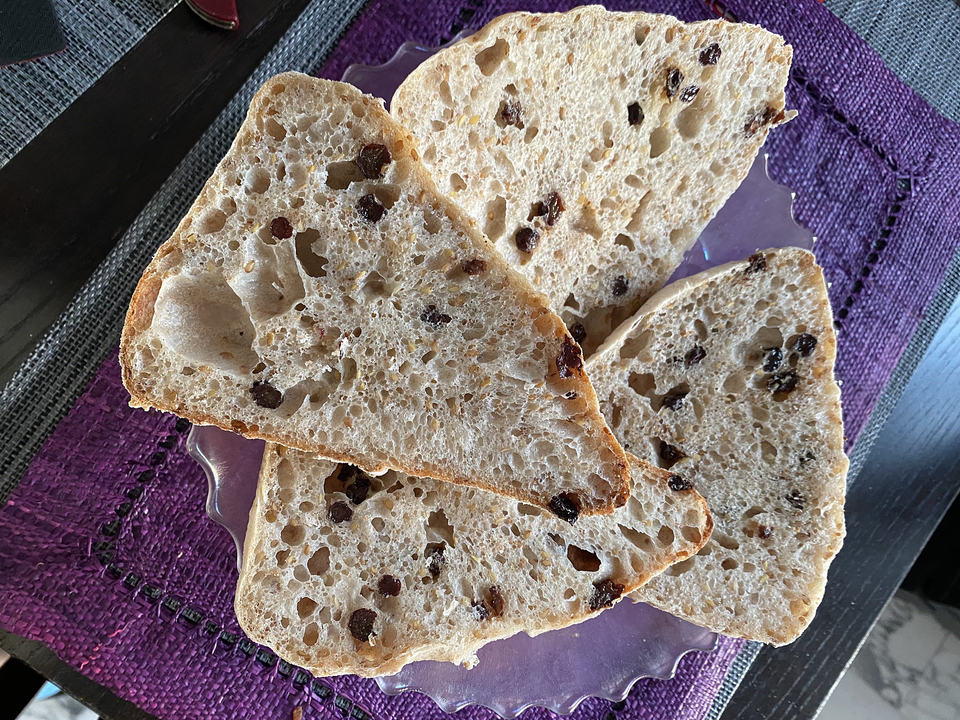 My recipe folder is extremely messy. Scraps of paper of all different sizes, some scribbled, some printed, some ripped from newspapers. Truth is, I don't go to it that often, but when I do it takes far too long to find things than it ought. The upside of that is that sometimes I unearth interesting things that I am not looking for. So it was a couple of weeks ago, when I surfaced a bread recipe from 2007 that I had apparently printed off in 2011. (So glad to be able to report, it is still there: Rustic Flax Seed-Currant Bread – Wild Yeast). For some reason, last week it called out to me.
The finished product is a lot like a ciabatta, and it uses the same double hydration technique to get there. First, you hold back some of the water and knead the dough to a reasonable state of gluten development, about nine minutes in my case. Then you add the remaining water and patiently work to get it all incorporated into the dough. It's a very handy technique for any highly hydrated dough.
So, here's my version of Susan's Rustic Flax Seed-Currant Bread.
Ingredients
420 gm ripe starter at 100%.

105 gm golden flax seeds
155 gm water

All of the starter
600 gm water
21 gm salt
4 gm instant yeast
730 gm white bread flour
85 gm wholewheat flour
45 gm whole rye flour
All of the flax seeds and their gel
130 gm dried currants
Method
Susan uses yeast in both the starter (a poolish) and the final dough. I wanted to use a leaven so built up my 100% starter with Manitoba flour. I was a bit constrained for time, so I did use yeast for the final dough. When I do this again, which I will, I may try sourdough starter all the way.
Soak the flax seeds at least two hours before you plan to start.
Put the starter in a bowl with 480 gm of the water, all of the flours, the yeast and the salt. Susan used a stand mixer at low speed for 10 minutes. I should be so lucky. I kneaded, hard, for a little more than 9 minutes. Maybe could have done with five minutes more.
The dough then goes back into the bowl and is worked with the remaining 120 gm water, a little at a time, to get all the water into the dough, which will feel very soft and stretchy. This part needs only patience and confidence. It will come together. Once all the water has been absorbed, add the currants and the flax seeds, along with their soaking gel. Mix again, in the bowl, stretching and folding until the additions are evenly distributed through the dough.
Bulk ferment for about 1½ hours, then turn the dough out onto a well-floured counter and do one or two sets of letter folds. Return the dough to the bowl and bulk ferment for another hour.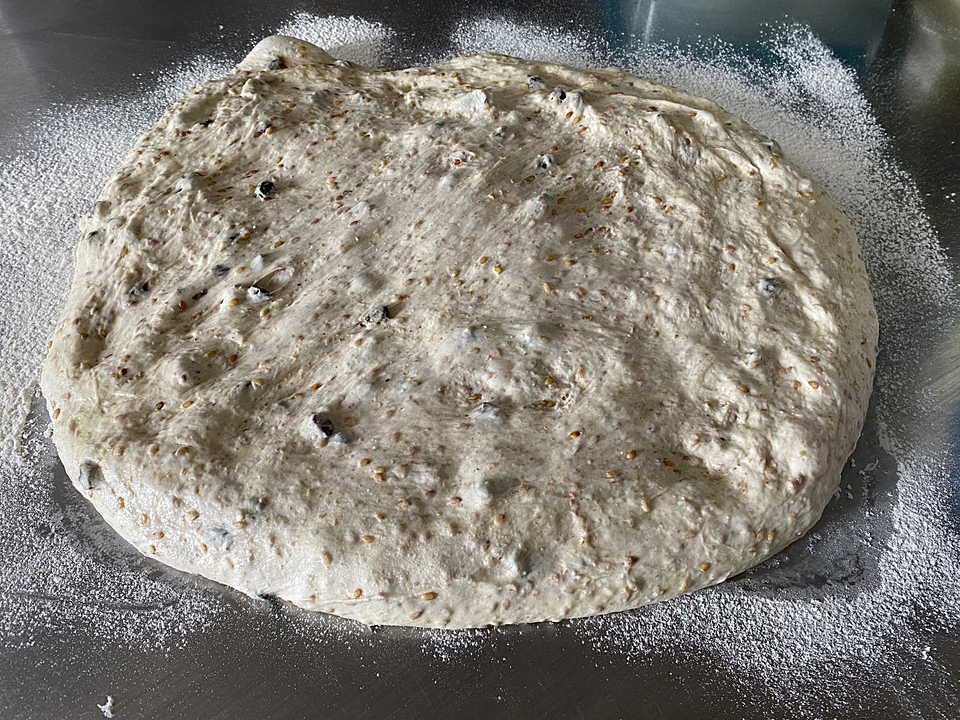 Again, turn the dough out onto a well-floured counter and stretch it gently into a rectangle about 2 cm tall, trying not to degas it too much. With a dough scraper, cut the dough into manageable pieces, transferring each one to a floured couche, without flipping them over. Gently does it. Cover the whole couche with a damp cloth or plastic, supported so as not to weigh on the little loaves.
Proof for about an hour, during which time the loaves will puff up and bubble.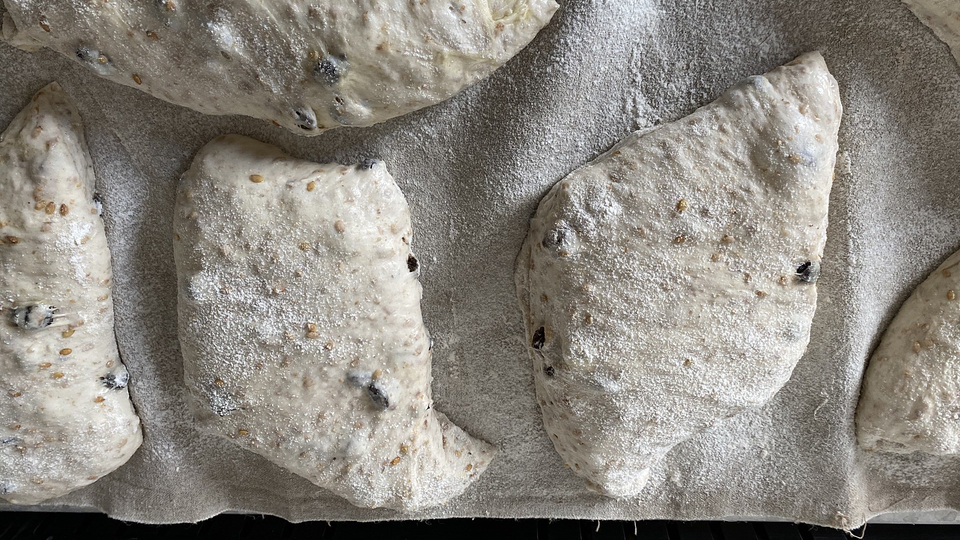 In good time, preheat the oven to 230°C and prepare to steam. A baking stone is a good idea.
When the loaves have risen, prepare a piece of baking parchment the size of your stone, if you have one, or line a baking tray. Lightly sprinkle the loaves with flour and flip them onto the parchment, so the heavily floured side is now uppermost. No need to score.
Slide the parchment onto the stone and bake for 8 minutes with steam. Remove the steam tray and bake another 27 minutes without steam. Crack the oven door open for the final 5 minutes. Susan says to turn the oven off and leave the loaves in, with the door still ajar, for a further five minutes, but I had a second batch to bake so didn't bother. They seemed fine.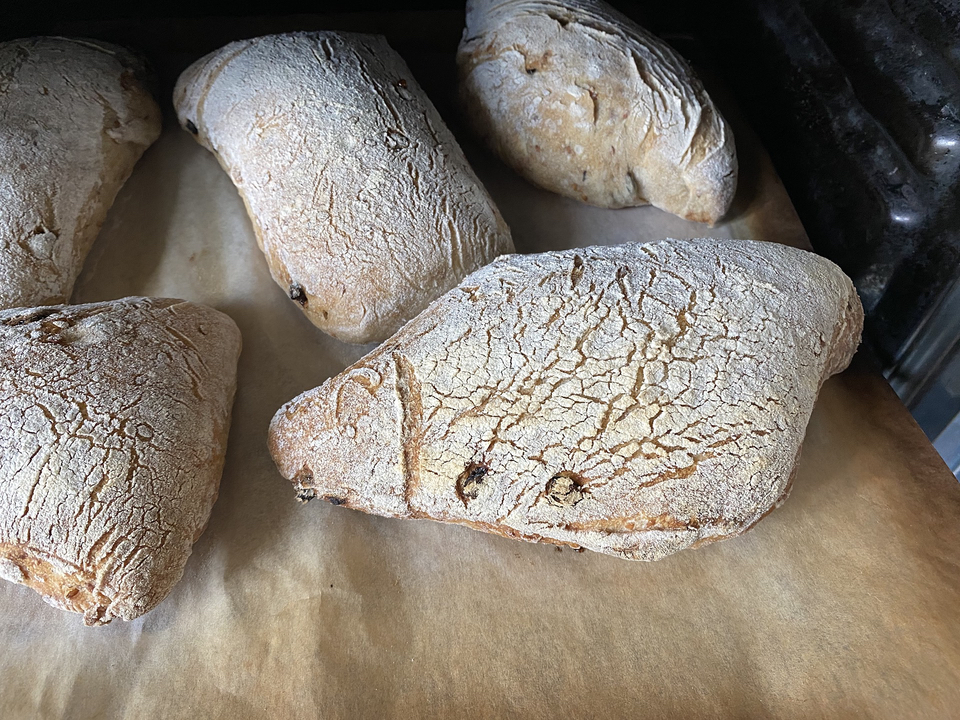 Rest the golden loaves on a wire rack and try to wait until they are properly cool before ripping one open to eat. The sweetish currants make a great foil for the crunch of the flax seeds and the wheatiness of the crumb. A definite winner.