Sultana and pine nuts
I fancied something different, so returned to a loaf that I haven't made in a couple of years at least. And in so doing I discovered that the images that accompanied the original post had gone missing. So, I'm going to shamelessly steal from myself and just copy most of that original post over.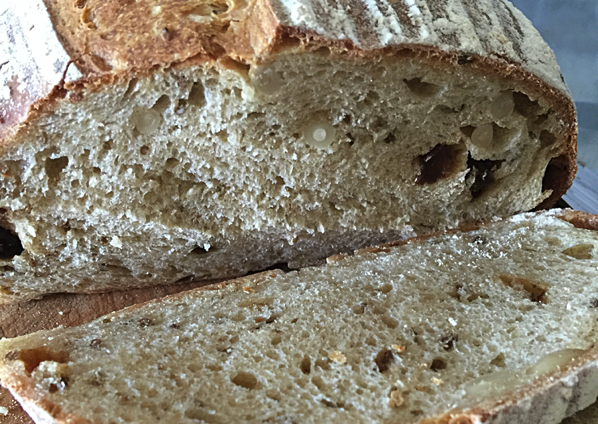 A couple of notes. First off, I used less fruit and nuts, about half as much, but the same amount of anise seed. I think it makes for a better flavour, not as dominated by the sultanas, which are now an occasional treat rather than omnipresent. Secondly, I bought some einkorn (spelt) a while ago and so, in the absence of durum flour, I used that. Can I taste the difference? Not absolutely sure, although it is definitely tastier than plain bread wheat flour. Who cares anyway?
Ingredients
195 gm ripe 100% hydration starter. I build with ordinary soft flour
220 gm ordinary flour
220 gm einkorn flour
245 gm water
10 gm salt
22 gm olive oil
45 gm sultanas (seedless!) or raisins, or currants
22 gm pine nuts
10 gm anise or fennel seeds (optional)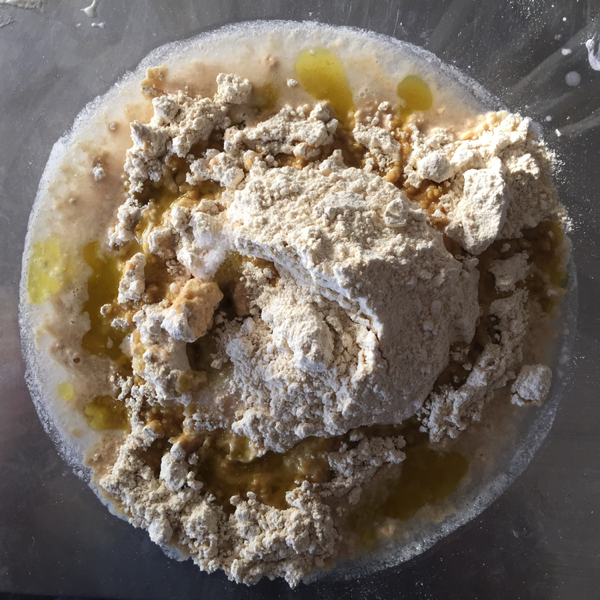 Method
Mix the starter, water, flours, starter and olive oil in a large bowl and mix until combined. Turn out onto the counter and knead for about 5 minutes to a smooth, elastic consistency. Add the sultanas or other dried fruit, the pine nuts and seeds (if using) and knead until the additional ingredients are well incorporated into the dough. Form into a ball and place into a lightly oiled bowl to bulk ferment.
It is currently so hot that I put the bowl straight into the fridge for an overnight rise. If you do the same, take it out and allow it to warm up for a couple of hours before shaping the loaves.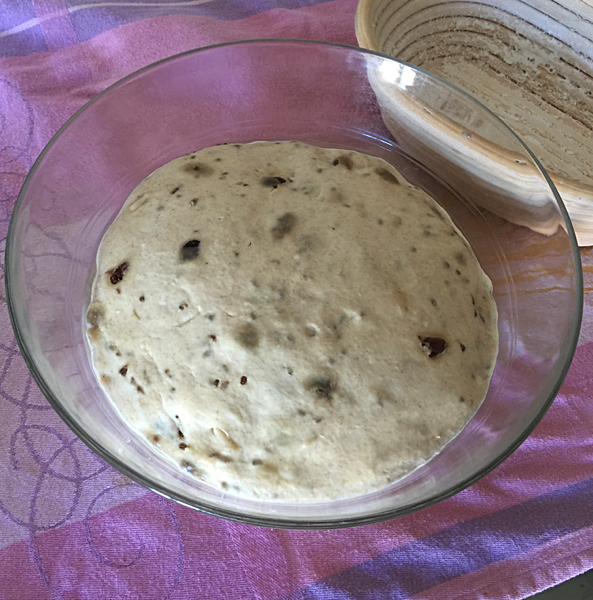 Turn the dough out onto a lightly floured surface, press out gently and divide into two portions. Shape the dough as you prefer and allow to rise for about another 1 1/2 hours.
Preheat the oven to 230°C and prepare to use steam.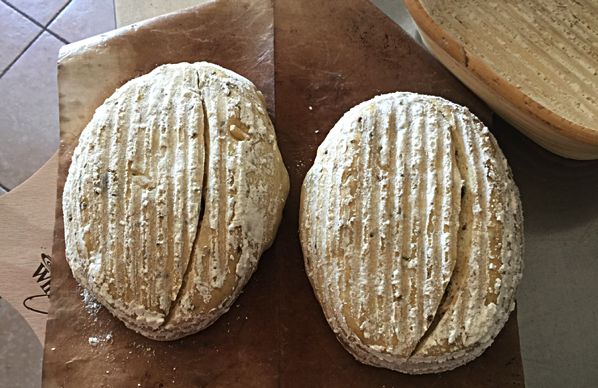 Slash the loaves and place them in the oven, with steam. Bake for about 20 minutes. Then remove the steam, turn the temperature down to 220°C and bake for a further 10-15 minutes. Test the loaves for doneness and if done turn the heat off and leave them in the oven with the door slightly ajar to help them dry out. Place on a wire grill to cool.