The image of fine Victorian ladies lounging around in a slight stupor after eating too much poppyseed cake has always tickled me, notwithstanding that some of them were surely on laudanum and had no need of cake. Not so funny the idea that you can be busted after eating a single poppyseed bagel or slice of poppyseed cake. At the very least, you can fail a drug test and have to fight to have that overturned.
Ingredients
2 eggs
150 gm white sugar
1 tsp vanilla extract
125 ml oil (peanut, sunflower, whatever)
250 ml plain yoghurt
130 gm poppyseeds
70 gm plain white flour
1 tsp baking powder
Method
Preheat the oven to 180° C (about Gas 5-6). Butter a round pie or cake tin, about 25 cm diameter.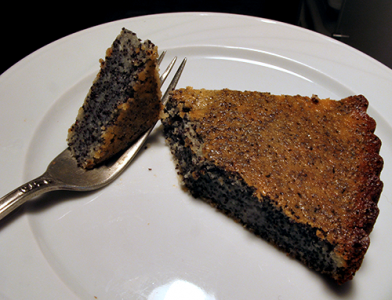 Beat the eggs, sugar, vanilla and oil well together. Add the yoghurt and poppyseeds and beat them in too. Add the flour and baking powder and stir well to incorporate, ensuring there are no lumps of flour. Pour into the tin, place in the middle of the preheated oven and bake for 40 minutes. Turn it around after 20 minutes to even exposure to heat in the oven. Test that a skewer or toothpick comes out clean, remove from the oven and allow to cool in the tin.
My Mum's recipe says to garnish with jam and chocolate, but she wouldn't do that and neither would I. Serve with more yoghurt, mascarpone, or even plain whipped cream. Or without any garnish. A lemon drizzle could be good, but most of the ones I've seen out there look too sugary. There must be a lemon drizzle that isn't just lemon-flavoured icing sugar.
I'd eat a slice every day, especially if I were in a job that subjected me to random drug tests.