The way rye always gives the starter a big boost is really interesting, although the still-cold weather meant that it was Saturday night before I could feed it up again. I decided to go for Jeffrey Hamelman's 40% caraway rye, without caraway seeds because my client doesn't much like bits in her bread. Which is why she doesn't get bread as often as I bake, but that's another story.
I'm not going to repeat the recipe and method here because other than omitting the caraway seeds I didn't do anything to make it my own. Normally I don't add the little bit of yeast that Hamelman's sourdough loaves often call for, but this time I did, partly in order to be able to bake it on Sunday night. Rye doughs, even at only 40%, are often sticky and so I tend to work it by smooshing it along the counter with one hand and using a scraper in the other to bring it back together.
In addition to omitting the caraway seeds, I also began building the rye starter with 150 gm rather than 20 gm. The idea was to have enough left-over starter to try something else: crispbread. For this I turned to Dark Crisp Rye Bread in Dan Lepard's The Handmade Loaf, another favourite book. Again, I'm not going to copy out the recipe. I hadn't made quite enough extra starter, so I ended up reducing quantities to 75% overall. Rolling out the dough proved not nearly as awkward as I expected, probably because I followed the instructions to dredge it with rye flour. I even managed to make the whole thing almost rectangular. I suspect that if I really got into this I might try harder for neatness in future, but not this first time.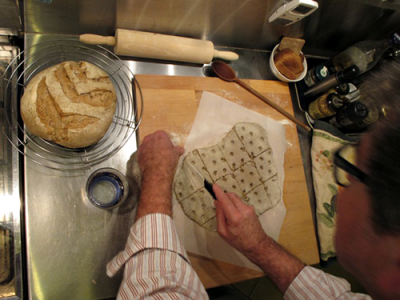 The loaf looked good coming out of the oven — I've developed a new scoring pattern that tends to elongate a round loaf, which I like — and the timing was perfect for the crispbread too. I'm not going to win any prizes for the regularity of my dimples, but they worked reasonably well, and after scoring the dough roughly into squares, into the oven it went "for 40-50 minutes, or until the upper surface is lightly tipped with golden patches against the grey rye crust". And off I went, timer in hand, to do some other work, out of smelling range of the oven.
Big mistake.
Forty minutes later the oven greeted me with an acrid smell and even some smoke. The bread was charred, rather than merely crisp. It seemed so bad, I really was wondering whether there was a mistake in either the temperature or the time. Seems like I wasn't the only one.
I'm adding in a comment about the Dark crisp rye bread as well (p. 167). I was very excited to try this as we love knackerbrod. Despite my initial misgivings about the temperature and the bake time (425 F for 40 – 50 minutes), knowing that the light rye flatbreads were a mere 400 F for all of 25 – 30 minutes, I went ahead and followed the instructions to the letter, as I usually do the first time around. What a mistake. 30 minutes into the process, the bread was burnt to a crisp. It was black in several places. Now as I mentioned I've had my oven re-calibrated twice and I do not have this problem with other books. So if you do buy the version out right now, go ahead and lower the temperature and bake time on that recipe, and don't be afraid to tweak things ahead of time if they look a little off.
That's actually strangely reassuring. I am not alone. In the end, the flavour of these crispbreads was rather good, making allowances for the bitterness of the burnt bits, and I will definitely be trying them again.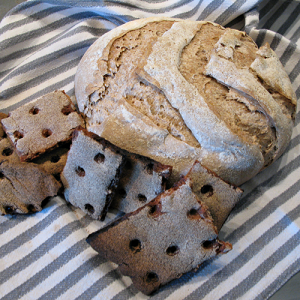 Whether that will be before the next entirely unpredictable Pasta Madre Day rolls around, I cannot say. And in its own strange way, the very unpredictability of Pasta Madre Day (there seems to have been one in December 2011, but no indication of whether it is annual, but roves around, like Easter, or happens only when people remember to do it) is at odds with baking with a natural leaven. You can't just suddenly decide to make a sourdough loaf. You need to have a starter, and you need to feed it up before you begin to make your dough. Unless, of course, you keep a large amount fed all the time just in case, which strikes me as incredibly wasteful. So I'm confused. I didn't need Pasta Madre Day to bless my baking. But I rather like the idea of my baking helping to contribute to a wider appreciation of the joy and satisfaction to be had from baking with natural leavens.
Maybe next time I (and Pasta Madre Day) will be better prepared.