Roscioli in Rome (the bakery, around the corner from the deli/restaurant) does a dark, almost burnt walnut loaf that many people swear by. A couple of years ago I tried to imagine a recipe. It wasn't good. Then I found a link to an old recipe of Dan Lepard's in The Independent. I just searched for the link, but it seems to be broken. No matter, though, because I did a full work-up — with pictorial goodness — on my other blog . The secret is the walnut paste in the dough. It gives a flavour boost and imparts a lovely purple colour to the loaf.
I've modified the recipe since then, going to a pure sourdough, no commercial yeast. Why? Because I can; nothing purist about it. Here are the details.
For the dough:
100 gm walnut paste (see below)
300 gm active starter at 100% hydration
125 gm water
200 gm strong white flour
100 gm wholemeal flour
50 gm rye flour
10 gm salt
50 gm honey
100 gm walnuts
Oil for kneading
For the walnut paste:
40 gm walnuts
20 gm soft butter
40 gm water
A pinch of salt
First make the paste. Put 40 gm of walnuts, water, butter and salt into a food processor and whizz until you have a soft, smooth paste.
Mix the water into starter (you did make enough to keep some for next time?), add the honey and mix to incorporate roughly. Now add the walnut paste, the flours and the salt and mix well until you have a shaggy mass of dough. Tip in the remaining 100 gm of walnuts and squidge them into the dough. Cover the bowl and leave to rest for 10 minutes or so.
Tip the dough out onto a lightly oiled surface and knead it quickly about 10 times. The faster you work, the less likely it is to stick to the surface and your hands. Return the dough to the bowl, cover, and leave for about an hour. Knead again 10 times quickly. You should notice a definite improvement in the structure, more elastic and less sticky. Return to the bowl, cover, and leave another hour or so.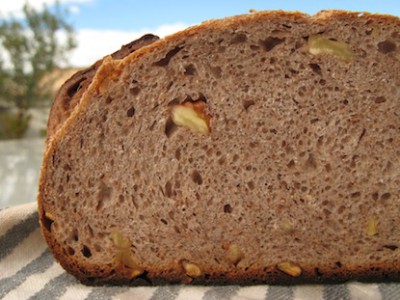 Prepare your container, a banneton or a tea-towel in a deep bowl, well floured. Knead the dough once more and then shape and place the shaped loaf in the container to rise. This final proofing normally takes about two hours under my conditions.
Preheat the oven to 210℃ (410℉). Turn the loaf out and score a checkerboard pattern on the top with vertical cuts. Pop the loaf in the oven and bake "for about an hour or until the loaf is rich brown and, when tapped, sounds hollow". Allow to cool on a rack.
One more thing; it makes great toast. If you don't eat it all fresh. Seriously, this is a great bread. I should add that, glutton for punishment that I am, I have only ever made this bread with freshly shelled walnuts. I'll bet it is every bit as good with ready-shelled ones, but I wouldn't wait too long in the season because walnuts can go a bit rancid.