Saveur magazine's May 2012 issue promised that I could "learn to bake like a pro," and had a bunch of interesting sounding recipes. Interesting, and weird. For all kinds of reasons. So I thought it would be fun to, er, reinterpret them for people who were reasonable bakers, and had no desire to bake like a pro. I decided to start with Apple Cider Levain Loaf. Big mistake.
The two weird things about the Saveur recipes are the amounts and the instructions, especially with regard to their "levain". They start with 1/4 teaspoon of dried active yeast, and feed that each day with equal volumes of "all-purpose" flour and water. Helpfully, they do the math: "4 ¾ cups plus ⅔ cup and 2 tbsp. (1 lb. 9 ⅓ oz.) all-purpose flour". I think 2 tablespoons of flour is 1 fluid oz. So the total volume of flour is 44.4 fl oz., and the total weight 25.33 oz. and a Saveur cup of AP flour weighs 4.6 oz. In which case, given equal volumes of flour and water in the starter, the hydration of the start is 174%.
Drippy.
More to the point, how much else is going to be in there apart from commercial yeast? Is it really worth 10 days of buggering about if all you probably have is commercial yeast?
My Starter
So the first thing to reinterpret was the starter. Saveur builds 1/4 cup of its levain with 1/3 cup of water, 3/4 cup bread flour (a cup of which, confusingly to me, weighs 5 oz. rather than 4.6 oz.) and 1/4 cup apple cider. I'm assuming they mean apple juice. Ignoring the 1/4 cup starter, the hydration of this build is pretty close to 125%.
OK! That bit was easy! Not surprisingly it smelled faintly fruity, bubbled a treat, and was ready to roll this morning.
To about 70 grams of 100% hydration starter, add 75 grams of water, 57 grams of unsweetened apple juice and 107 grams bread flour. Stir to mix, cover, and leave for 12-24 hours.
The Dough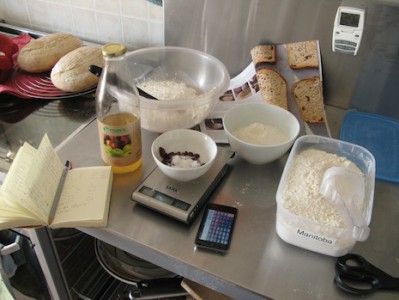 Back to those dumb volumetrics; Saveur calls for 2/3 cup water, 3/4 cup "cider," aka apple juice, and 3 1/4 cups bread flour, which translates, at their rate, to 16 1/4 oz. I decided to go metric now, rather than later, at 28.8 rather than 30. (Why? Because it gives 150 gm of water and 175 of apple juice, as near as makes no difference.) Plus 50 gm of dried cranberries (because I didn't have the 2 oz. the recipe calls for) and 15 grams of salt.
The whole lot is allowed to autolyse for 20 minus, and although it looked pretty gloopy, I thought it might just thicken up a bit.
No such luck. Knead for 10 minutes, the recipe said, which I dutifully tried to do, although to tell the truth I was really just using my dough scraper and one hand to move a very thick batter around on the countertop. Somehow I scooped it all back into the bowl and cleaned up, leaving the goop to bulk ferment for one hour.
At which stage, after an interminable time washing up, I came to write up my notes. And discovered that on Saveur's own recipe page, people were not happy.
"Just forget it. Avoid this recipe. It's just plain wrong," said Mr Mambo. His math differs from mine, but I feel his pain. "I've now wasted a week and a half of prepping a starter and too much flour to count…all for nothing. I hate you right now, Saveur. I really, really do."
LKYMOM didn't follow the recipe too exactly (no apple juice, raisins instead of cranberries, and an unspecified amount of additional flour). "I just figured I'd bake it and have an ugly loaf. But to my surprise it rose quite a bit and was very moist and tasty ( although the loaf itself is like five pounds).
"I will not, however, make this recipe again." Nothing daunted, though, she says she is "moving onto the Filone".
And the final commenter, Kclement, asks "Was anyone successful following this recipe as it was printed?! I followed it as written and was totally unsuccessful. I would hope that all Saveur recipes are tested before they are run in the magazine."
Scrape all of the starter into a larger bowl and add 150 grams water, 170 grams apple juice, 470 grams bread flour, 50 grams dried cranberries and 15 grams salt. Stir to make a dough, and allow to rest for 20 minutes. Turn onto counter and knead for 120 minutes. the original recipe says "until smooth and elastic," but that's never going to happen. Return to bowl, and allow to ferment for one hour. Stretch and fold in the bowl, and allow to ferment, according to the original recipe "until doubled in size, about 3 hours". That's probably never going to happen either.
Me too
I would hope so too, but I'm not encouraged. The recipe says that after a bulk ferment of one hour I should do a fold and return the dough to the bowl, "seam side down". that was never going to happen. Seam, what seam? I did 20 quick stretch and folds in the bowl, and I'm still not too impressed.
Now what? The recipe actually calls for it to be baked in a greased tin. That makes sense, given how slack the dough is. I think I've still got a tin somewhere. Or should I add flour to being it back to a reasonable hydration? I'm somewhat inclined to the former. In any case, I have about 2 1/2 hours to decide.
In the end, not adjusting the recipe seemed fairest. Not having a tin, I had to improvise with barking parchment, which was fine as long as it was held up in a plastic food box. The blob rose pretty well, I have to admit, but as soon as it his the stone in the oven spread out with a vengeance. Just a couple of minutes now before I test to see whether it is done.
And it was. A thick pancake-like object. Now cooling down. Taste test later tonight.